This is one of my favorite styles of beer. Saison is French for "season". Typically brewed for the fall season, however I've enjoyed this well into winter probably because of it's added characteristics. It's not just simple and clean like a Hefeweizen. There is variation within this style that keeps it interesting. There is a citrusy fruitiness in the nose, it may have a moderate hop aroma and some spices. Typically bottles conditioned. That means just pour gently as to not incorporate air into the bottle and stir up the yeast at the bottom. I particularly enjoy the high carbonation because the flavor profile and the added bubbles. Makes me feel like I'm drinking champagne. That's what I love the most. A beautiful beer that I can enjoy like champagne. Can it get any better?
It pairs well with a variety of foods from bar-be-cue (yes) to hot peppery dishes. It is great on the deck with cheeses, grapes, and conversation. Enjoy!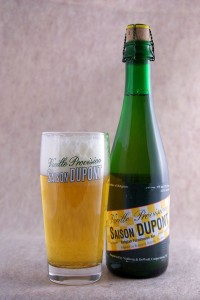 Can be found at our friends at Monon Food Company in Broad Ripple.