This is one of my favorite styles of beer. Saison is French for "season". Typically brewed for the fall season, however I've enjoyed this well into winter probably because of it's added characteristics. It's not just simple and clean like a Hefeweizen. There is variation within this style that keeps it interesting. There is a citrusy fruitiness in the nose, it may have a moderate hop aroma and some spices. Typically bottles conditioned. That means just pour gently as to not incorporate air into the bottle and stir up the yeast at the bottom. I particularly enjoy the high carbonation because the flavor profile and the added bubbles. Makes me feel like I'm drinking champagne. That's what I love the most. A beautiful beer that I can enjoy like champagne. Can it get any better?
It pairs well with a variety of foods from bar-be-cue (yes) to hot peppery dishes. It is great on the deck with cheeses, grapes, and conversation. Enjoy!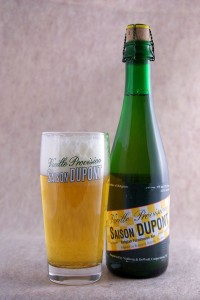 Can be found at our friends at Monon Food Company in Broad Ripple.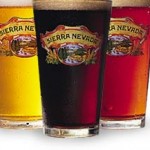 My first experience with beer was at the tender and innocent age of sixteen. I had an Uncle visiting from Holland and he was appalled that I had not sampled his merriment. So, forced into a sip, I tried. And the typical reaction of course was to spit it out. I won't mention the label because that would be unfair, even though I still haven't developed affinity for the brand. This name shall remain a mystery. So this first taste should not really be called an experience as it's really something I tried to forget. It wasn't until my middle thirties, sitting in a bar, trying my first Sierra Nevada IPA and "wow" what a difference. I had fruity hops dancing in bubbles across my tongue then to punch me with bitter. And then I gulped for another explosion. I think that may have been my first experience with love. (OK, OK I may be pushing it with that one. But you get the idea.) I don't know if my taste buds were ready for the experience. But I have to say it was the first time I enjoyed beer and the experience showed me something new. And I opened myself into looking at beer.
As a wine drinker I scoffed at the idea of beer appreciation and here I was reflecting back to myself my own idiosyncratic perception. I think this is an interesting time for women to explore beer. I think the environment (historically being male driven) is more willing to have women sit and take part in the conversation. And I'm glad because this is the opportunity within Indiana for us to go and explore, talk and engage in ideas over beer.
So let's start by sharing with Lipstick on the Rim your first taste and when did you actually experience beer for the first time?