Archive for the 'welcome' Category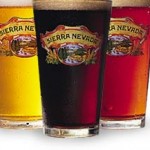 My first experience with beer was at the tender and innocent age of sixteen. I had an Uncle visiting from Holland and he was appalled that I had not sampled his merriment. So, forced into a sip, I tried. And the typical reaction of course was to spit it out. I won't mention the label because that would be unfair, even though I still haven't developed affinity for the brand. This name shall remain a mystery. So this first taste should not really be called an experience as it's really something I tried to forget. It wasn't until my middle thirties, sitting in a bar, trying my first Sierra Nevada IPA and "wow" what a difference. I had fruity hops dancing in bubbles across my tongue then to punch me with bitter. And then I gulped for another explosion. I think that may have been my first experience with love. (OK, OK I may be pushing it with that one. But you get the idea.) I don't know if my taste buds were ready for the experience. But I have to say it was the first time I enjoyed beer and the experience showed me something new. And I opened myself into looking at beer.
As a wine drinker I scoffed at the idea of beer appreciation and here I was reflecting back to myself my own idiosyncratic perception. I think this is an interesting time for women to explore beer. I think the environment (historically being male driven) is more willing to have women sit and take part in the conversation. And I'm glad because this is the opportunity within Indiana for us to go and explore, talk and engage in ideas over beer.
So let's start by sharing with Lipstick on the Rim your first taste and when did you actually experience beer for the first time?
Welcome to the first post of Lipstick on The Rim!  I am very excited about launching this blog and sharing with so many of you my adventures in the world of beer.  Several months ago I met a young man named Brandon Hubbard.  Brandon is a beer aficionado, he love beer and has a vast knowledge of beer and beer tasting.
He started teaching me about beer, the different kinds, how they are brewed, the history, and eventually tasting them.  As he has walked me through the tastings I have learned much about the enjoyment of the small batch micro brew beers, and the joy of a wide variety of beers.  In the past I have never really liked beer thinking that everything on the market taste just like Budweiser and Miller.  Imagine my surprise when I learned that beer much like wine has a variety of subtle taste.  I am completely enjoying learning all about beer, breweries, bottles, taps, history, and how to enjoy your beer.
It dawned on me that there are most likely other women who would like to learn more about beer and the ability to enjoy the different kinds of beer.  So the birth of Lipstick on the Rim came about…..a blog for women, about beer.
So follow along….enjoy a few beers with us!