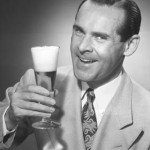 Men have been networking over beer for hundreds of year, today more and more women are connecting over good beer.  Following is an article written by a good friend, Greg Magnusson, @indianapolisvet on twitter and you can learn more about him at Leo's Pet Care.  Part two of this article can be found at hazelmwalker.com
I enjoy a beer once in a while, and sometimes, beer is served at networking events. Depending on how you handle this, beer can be a wonderful, terrible device. Beer can be a good icebreaker for some people, during some social functions, but it's important to not make a fool of yourself.
In my humble opinion, one is networking with beer:
 All beer-drinking folks have a designated driver (safety first!)

You make sure the person you're networking with is also holding a beer. (duh!) Believe it or not, not everyone likes talking about beer.

You ask that person what beer you should drink at the event, demonstrating your willingness to take advice.

You ask that person what beer they prefer outside of the event, demonstrating your willingness to learn about their personal preferences.

Holding a beer suggests you're both "off duty" to an extent. If the other party has loosened his tie and is halfway through a good beer, it may be safe to assume a certain level of cautious informality, but be prepared to follow in this regard, not lead.
The only inhibition you aim to lose is the one stopping you from smiling and laughing. If networking with beer makes you relaxed and more open, you're doing it right.
One Response to "5 Tips for Networking and Drinking Beer"